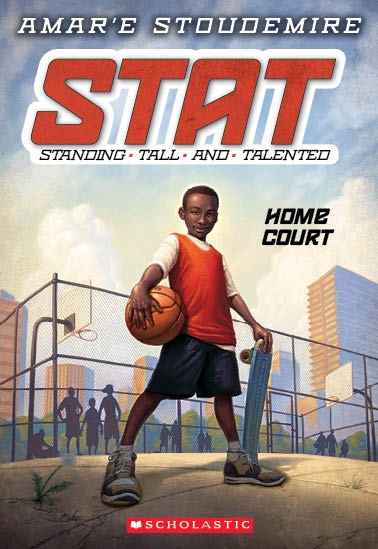 Home Court
by Amar'e Stoudemire. Scholastic, 2012. I bought this paperback for my fourth grade son. He loves all kinds of sports but is especially interested in skateboarding and basketball. Both of these sports are featured in an interesting combination of passions in the main character in Stoudemire's opening book of the series. "
STAT
" (standing tall and talented) is well written and fun to read. The text is scattered with sensory descriptions of the enticing smell of pizza, the rumbling hum of a skateboard on sidewalk, and the easy way boys tumble through their days taking play seriously. Amar'e, the main character, is an eleven year old boy who strives to achieve in school, works for his dad's landscaping company after school, and looks forward to getting together with his friends for basketball, baseball or skateboarding in his treasured free time. He has a natural, kid-friendly way of describling his world, sliding into informal talk that is almost intelligible to my middle aged librarian ears, but hits home for my kids.
"Mike bounced a skip pass to me as I stepped onto the court. I sprinted over and took the ball at a full run. A few quick dribbles and I laid it up. They let me take a few shots to warm up. But when I bricked my third jumper, Deuce swooped in and grabbed the rebound."
When some older, tougher boys start taking over the neighborhood basketball court, Amar'e and his friends have to find a way to re-establish their right to play. That and a history project at school have Amar'e thinking hard on his priorities, the value of friendship, and his developing leadership skills. With plenty of exciting play-by-play game descriptions in a complex social environment, Amar'e's story will connect with middle grade readers on many levels. It's a quick read that lays open conversations kids will really find engaging.
Amar'e Studemire,
NBA all-star
, author, actor, and philanthropist, has a foundation whose
mission
is to
" to creatively inspire and help at-risk youth to succeed with the goal of eradicating poverty through education. By providing education, support, supplies, tools and donations, the Amar'e Stoudemire Foundation helps each child thrive and achieve goals well beyond even their own expectations."
His
Each 1 Teach 1
program works with youth sports leagues to secure scholarships to student athletes in colleges and universities. You can find out more about all the programs he has going at the foundation
website
. Scholastic has an interview with
Studemire here.
There are two more books in the series, with more possible to come.
Shannon Messenger
rounds up Marvelous Middle Grade book blog posts every Monday.
Here's
today
's round up!