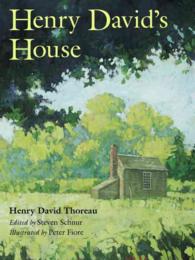 Henry David's House
edited by Steven Schnur and illustrated by Peter A. Fiore is a book I am giving Buster as part of his graduation present. It is a compilation of excerpts from Thoreau's journal, telling about how he built his cabin on Walden Pond. The illustrations are beautiful watercolor and oil paintings. With a borrowed axe Thoreau satisfies his material needs, saying "My furniture, part of which I made myself, consisted of a bed, a table, a desk, three chairs (one for solitude, two for friendship, three for society)." Thoreau's life in the woods is not simply solitary, but also includes companionship and the building of new friendships. He joy and quiet passion for the beauty of nature is interspersed with his delight in unexpected visitors, children picking berries, a passing hiker. He builds a life where thoughtful reflection and the celebration of the beauty and vitality of nature are the central playground of his spirit. "A slight sound at evening lifts me up by the ears, and makes life seem inexpressibly grand." I hope his words inspire my son as much as they have inspired me.
The Hello Goodbye Window
by Norton Juster and Chris Raschka is a Caldecott Medal winner from 2005. We are giving this to my dad for Father's Day. Buster started calling him "Bapa" while trying to say "grampa" and the name stuck so now all three call him that. He is a wonderful Bapa too! The Hello, Goodbye Window tells about a little girl's visits to her grandparents' house and the fun they have looking in and out the window. The visit story is structured by the kitchen window in their house acting as a welcome ritual, an opening for imagination, a view of the world and a farewell wave. The illustrations are charming. The family is a variety of shades of brown and tan and beige, just like our family. The nurturing relationship between the child and the grandparents is celebrated, making this the perfect gift for a grandfather who is such an important role model.